This recipe is a something I whipped up for dessert as I was heading over to a friends for dinner. I wanted to make something in line with the vegetarian curry she was making. I love matcha, and the buttercream is relatively strong, you can reduce the amount (1/2 tsp) if you want just a hint.
Makes 6 large cupcakes or 12 small
For the cupcakes
1 cup of almond meal
1/4 cup GF plain flour (use normal plain flour if u want)
1/2 cup caster sugar
1 tsp GF baking powder
200g unsalted butter
160 g black sesame seeds (ground in coffee grinder or food processor. Ok if rough, not fine)
3 eggs (lightly beaten and set to the side)
Pre-heat oven at 180 degrees (celsius), grease cupcake tray.
Combine the almond meal, flour, sugar and caster sugar in a mixing bowl. Set to the side
Lightly beat the 3 eggs and set to the side
In a coffee grinder or food processor grind the sesame seeds, in to a fine/coarse powder.
In a pan (either saucepan or frying-pan that is deep enough), on a low heat melt the butter with the ground black sesame seeds.
Once all the butter has melted, set aside to cool for several minutes. Once cool, lightly beat in the eggs.
Combine the wet and dry mixture, don't over combine. Add even amount of mixture to a greased cupcake tray.
Bake for 30 minutes or until skewer comes out clean. Completely cool before icing.
For the Matcha butter cream
1 & 1/3 cup of icing sugar
1 table spoon of matcha
1/2 cup of unsalted butter (room temperature)
1 table spoon of milk
Use an electric hand mixer or stand mixer
Beat the butter until light and fluffly
Combine the matcha and icing sugar (if you want less matcha flavour reduce amount used)
Slowly add the dry mixture to the butter and beat until light and fluffy. Regularly scrape the sides. The mixture should increase in size.
Finally add the milk, beat until you notice the mixture lighten in colour and further increase in size.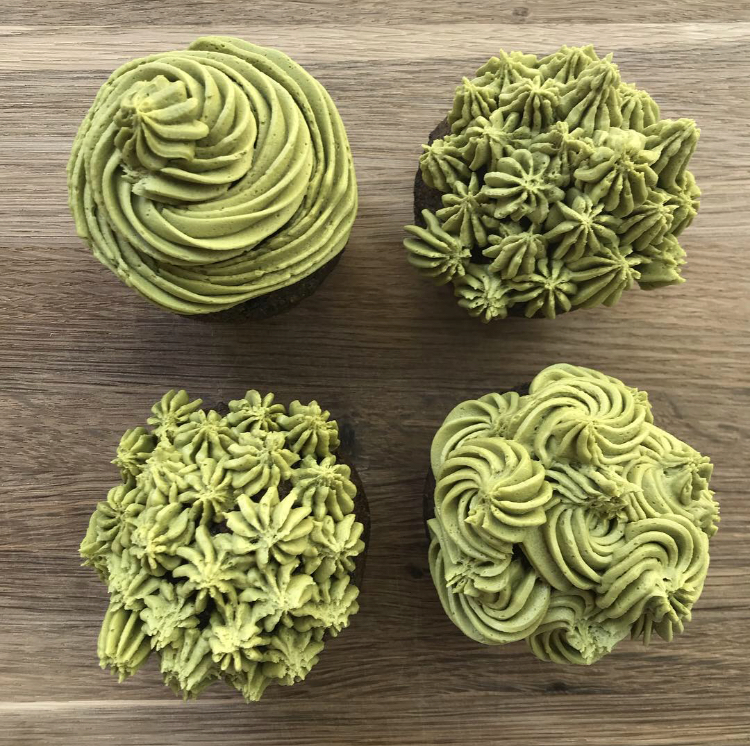 I piped my buttercream onto the cupcakes however you can use a spoon and a butter knife. If you have any sesame seeds leftover sprinkle over the top.
Enjoy